Characterization of nontypable haemophilus influenzae isolates recovered from adult patients with underlying chronic lung disease reveals genotypic and phenotypic traits associated with persistent infection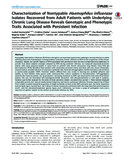 Date
2014
Author
Version
Acceso abierto / Sarbide irekia
xmlui.dri2xhtml.METS-1.0.item-type
Artículo / Artikulua
Version
Versión publicada / Argitaratu den bertsioa
Project Identifier
ES/6PN/SAF2012-31166
Impact
10.1371/journal.pone.0097020
Abstract
Nontypable Haemophilus influenzae (NTHi) has emerged as an important opportunistic pathogen causing infection in adults suffering obstructive lung diseases. Existing evidence associates chronic infection by NTHi to the progression of the chronic respiratory disease, but specific features of NTHi associated with persistence have not been comprehensively addressed. To provide clues about adaptiv ...
[++]
Publisher
Public Library of Science
Published in
Plos One, 9(5): e97020
Departament
IdAB – Instituto de Agrobiotecnología / Agrobioteknologiako Institutua
Publisher version
Sponsorship
JCM was supported by a postdoctoral fellowship from the U.S. National Institutes of Health (5F32AI084427). This work has been funded by grants from ISCIII PS09/00130, Ministerio Economía y Competitividad (MINECO) SAF2012-31166, Dpto. Salud Gobierno Navarra 359/2012, and Ministerio Educación PRX 12/00191 to JG, PS09/01904 to JL, and Canadian Institutes of Health Research grant to RJR. CIBERES is an initiative from ISCIII, Spain.
Appears in Collections
Items in Academica-e are protected by copyright with all rights reserved, unless otherwise noted.
Except where otherwise noted, this item's license is described as © 2014 Garmendia et al. This is an open-access article distributed under the terms of the Creative Commons Attribution License, which permits unrestricted use, distribution, and reproduction in any medium, provided the original author and source are credited.