Study of the effects of an aquaponics system with different fish densities in lettuce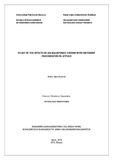 Date
2018
Author
Advisor
Version
Acceso abierto / Sarbide irekia
xmlui.dri2xhtml.METS-1.0.item-type
Trabajo Fin de Grado/Gradu Amaierako Lana
Impact
Abstract
La acuaponía es un sistema de producción de alimento sostenible que se basa en la interacción entre peces, bacterias y plantas. Aunque haya existido durante milenios, las investigaciones comenzaron hace unas décadas y el conocimiento práctico sobre el tema es reducido. El objetivo de este experimento fue comparar tres densidades de peces (Oreochromis niloticus) y estudiar los efectos en el cr ...
[++]
Arrain, bakteria eta landareen arteko elkarrekintzan oinarritzen den elikagai produkzio sistema jasangarria da akuaponia. Milaka urte izan arren, inbestigazioak duela hamarkada gutxi ekin ziren eta gaiaren inguruko jakinduria prkatikoa murriztua da. Experimentu honen helburua arrain (Oreochromis niloticus) dentsitate ezberdinak konparatu eta letxugaren (Lactuca sativa var. capitata ) hazkuntz ...
[++]
Aquaponics is a sustainable food production system based on the interaction between fish, bacteria, and plants. Although it has existed for millennia, research begun a few decades ago and there is little practical knowledge about it. This experiment aimed to compare three different fish (Oreochromis niloticus) densities and study the effects on the growth of lettuce (Lactuca sativa var. capit ...
[++]
Subject
Degree
Graduado o Graduada en Ingeniería Agroalimentaria y del Medio Rural por la Universidad Pública de Navarra / Nekazaritzako Elikagaien eta Landa Ingurunearen Ingeniaritzan graduatua Nafarroako Unibertsitate Publikoan
Appears in Collections
Items in Academica-e are protected by copyright with all rights reserved, unless otherwise noted.