Impact of seller- and buyer-created content on product sales in the electronic commerce platform: the role of informativeness, readability, multimedia richness, and extreme valence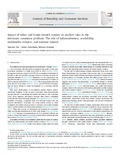 Date
2023
Version
Acceso abierto / Sarbide irekia
Type
Artículo / Artikulua
Version
Versión publicada / Argitaratu den bertsioa
Project Identifier
AEI/Plan Estatal de Investigación Científica y Técnica y de Innovación 2017-2020/PID2019-108554RB-I00/ES/
Impact
10.1016/j.jretconser.2022.103141
Abstract
This research aims to verify: (1) whether the impacts of the informativeness in seller-created and buyer-created content (product description informativeness/review informativeness) on product sales are complementary or substitutionary. (2) the moderating role of the readability of seller-created and buyercreated content (product description readability/review readability) between the corresp ...
[++]
Subject
Seller-created content, Buyer-created content, Electronic commerce, Informativeness, Readability, Multimedia richness, Extreme valence
Published in
Journal of Reatlaing Consumer Services, 70 (2023) 103141
Departament
Universidad Pública de Navarra. Departamento de Gestión de Empresas / Nafarroako Unibertsitate Publikoa. Enpresen Kudeaketa Saila / Universidad Pública de Navarra/Nafarroako Unibertsitate Publikoa. Institute for Advanced Research in Business and Economics - INARBE
Publisher version
Sponsorship
Spanish Ministry of Education and Science [Project number: PID2019- 108554RB-I00] and the Public University of Navarre. The authors also thank the open access funding provided by the Public University of Navarre.
Appears in Collections
Items in Academica-e are protected by copyright with all rights reserved, unless otherwise noted.