Metschnikowia pulcherrima as an efficient biocontrol agent of Botrytis cinerea infection in apples: unraveling protection mechanisms through yeast proteomics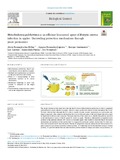 Date
2023
Author
Version
Acceso abierto / Sarbide irekia
Type
Artículo / Artikulua
Version
Versión publicada / Argitaratu den bertsioa
Project Identifier
Gobierno de Navarra//0011-1365-2021-000079 Gobierno de Navarra//0011-1411-2019-000009
Impact
10.1016/j.biocontrol.2023.105266
Abstract
The results obtained in this study show that the Mp-30 strain of Metschnikowia pulcherrima is able to completely prevent Botrytis cinerea infection in apples, which is a major postharvest disease of fruits throughout the world. We have observed that although Mp-30 is able to rapidly colonize wounds, sequestrate iron and secrete antifungal compounds, other unknown mechanisms that occur in the e ...
[++]
Subject
Biocontrol, Botrytis, Yeast, Metschnikowia, Proteomic, Apple
Published in
Biological Control 183 (2023) 105266
Departament
Universidad Pública de Navarra. Departamento de Ciencias de la Salud / Nafarroako Unibertsitate Publikoa. Osasun Zientziak Saila / Universidad Pública de Navarra/Nafarroako Unibertsitate Publikoa. Institute for Multidisciplinary Research in Applied Biology - IMAB
Publisher version
Sponsorship
This work was financed by the Departamento de Desarrollo Economico y Empresarial from the Government of Navarrre (Spain): grants 0011-1365-2021-000079 and 0011-1411-2019-000009. Open Access funding provided by Universidad Pública de Navarra.
Appears in Collections
Items in Academica-e are protected by copyright with all rights reserved, unless otherwise noted.